Popular amenities
Barbecue

Campsite shop

Golf/minigolf

Restaurant on the campsite

Games/entertainment for children
all amenities
Photos and videos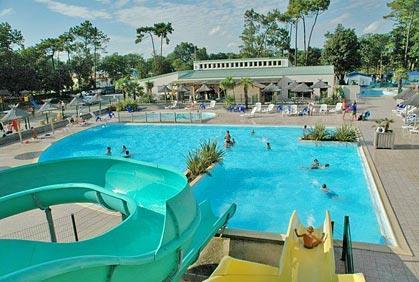 General information
The Le California campsite is located in a quiet and rural area. It is in the middle of a pine forest measuring 4.3 hectares and close to the sandy beach of Côte de Monts. At this campsite in St. Jean-de-Monts you will wake with the singing birds. You can really enjoy a relaxing holiday here.

Children will fly into the swimming pool from the 2 waterslides at the Le California campsite and there is a children's pool where the little ones can enjoy splashing around. There is also an indoor swimming pool with spa baths. If you would prefer to go to the beach, the beach of Côte de Monts is around 3km away from the campsite.

Your children can really enjoy themselves in the playground at the campsite. There is also a children's club in the high season where children aged 6 to 12 years old are very welcome. They can play, draw and paint here amongst other activities.

If you enjoy tasty breakfasts, you can buy delicious croissants or baguettes from the bakery at the campsite. A great way to begin the day! You can buy other shopping at the small supermarket. If you are too tired to cook after a long sunny day, there is a restaurant at the campsite where you can have a nice meal.

This campsite in France also offers barbecue hire, a bar, takeaway meals, laundry, multi-sports fields, table tennis and billiards.

Discover the area around the Le California campsite by hiring a bike from the campsite – there are beautiful cycling routes in area. You can also go horse-riding at a riding school, play golf or go fishing. Saint Gilles is close by and is a nice place to visit. And don't forget to visit Le Puy du Fou, which has impressive shows. This park is definitely worth a visit and was voted the winner of 'best park in the world' in 2012.
Read more
Free amendments up to 1 March 2017
Availability
No accommodation found
Location
Campsite Le California
chemin de la Parée Verte
85160 - St. Jean-de-Monts
France
Distance from Dover: 741 km
Coordinates: 46°45'25"N 1°58'42"W
Situation of campsite
Distance to the sea (max. 10 km)
Facilities
General information
Area

4.3 ha

Total number of pitches

256
The facilities are checked each year by an ACSI inspector in the period May to September. Unfortunately, changes made at the camp site after the inspector\'s visit cannot be ruled out.
Wifi/ Internet

Swimming

Outdoor swimming pool
Indoor swimming pool (heated)
Toddlers' pool (ages 1-3, < 40 cm)

For children

Children's playground: small
Entertainment programme: Children (at least 2x a week - h.s.)

languages: French
period: 01-07/31-08

Recreation (adults)

Entertainment programme: Adults (at least 2x a week - h.s.)

languages: French
period: 01-07/31-08

Sport and games

Golf course nearby (max. 10 km)
Multi-sports field
Table tennis table
Television
Pool or billiards

Dogs

Dogs not allowed in low season
Dogs not allowed in high season

Rental facilities

Food and drink

Snack bar
Takeaway meals
Groceries: extensive selection
Fresh bread available at the camp site
Restaurant (with ample choice)
Barbecues permitted

type of BBQ: charcoal | electricity | gas

Bar

Washing, washing-up, cooking

Washing machine(s)
Dryers

Location

Distance to the sea (max. 10 km)
Reviews
Total score
6.8
Score from 3 reviews
Mooie plekken, schone accomodaties,
7.5
leuke camping, mooi zwembad, dicht bij het strand
6.3
Netjes, mooi zwembad, goede sanitaire voorz.
6.6
Discounts
View all discounts for this campsite below. Don't see anything that takes your fancy but still looking for a great offer? Then take a look at
all of our campsite offers
.
| | Offer | Valid | Holiday period | |
| --- | --- | --- | --- | --- |
| Mobile Home 3 rooms 6 persons | Early Booking discount -20% | 01-05-2016 - 28-02-2017 | 01-03-2017 - 01-07-2017 | Up to 20% discount |
| Mobile Home 3 rooms 6 persons | Early Booking discount -20% | 01-05-2016 - 30-04-2017 | 26-08-2017 - 01-11-2017 | Up to 20% discount |
| Mobile Home 2 rooms 5 persons | Early Booking discount -20% | 01-05-2016 - 28-02-2017 | 01-03-2017 - 01-07-2017 | Up to 20% discount |
| Mobile Home 2 rooms 5 persons | Early Booking discount -20% | 01-05-2016 - 30-04-2017 | 26-08-2017 - 01-11-2017 | Up to 20% discount |
| Mobile Home 2 rooms 6 persons | Early Booking discount -20% | 01-05-2016 - 28-02-2017 | 01-03-2017 - 01-07-2017 | Up to 20% discount |
| Mobile Home 2 rooms 6 persons | Early Booking discount -20% | 01-05-2016 - 30-04-2017 | 26-08-2017 - 01-11-2017 | Up to 20% discount |
| Mobile Home 2 rooms 4 persons | Early Booking discount -20% | 01-05-2016 - 28-02-2017 | 01-03-2017 - 01-07-2017 | Up to 20% discount |
| Mobile Home 2 rooms 4 persons | Early Booking discount -20% | 01-05-2016 - 30-04-2017 | 26-08-2017 - 01-11-2017 | Up to 20% discount |
Campsites in the vicinity