Popular amenities
Barbecue

Campsite shop

Walking/hiking/cycling

Fitness

Cash machine
all amenities
Free cancellation up to 31 December 2017
Changes can be made free of charge until 31 March 2018
Suncamp holidays is a registered participant of Stichting Garantiefonds Reisgelden (SGR). More info
Availability
Our accommodation
Bungalow tent BT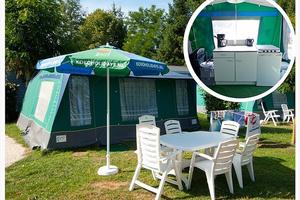 Included in the price
Final cleaning is not included
Bungalow tent LT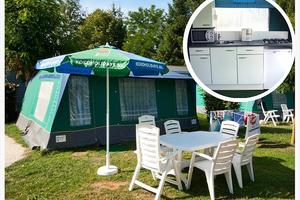 Included in the price
Waterconnection is included
Final cleaning is not included
*This accommodation cannot be booked from our own supply. We will ask the campsite if the accommodation is still available

It is possible to book accommodation on request. This means the accommodation is no longer directly available for booking from our supply. Often, Suncamp holidays can still arrange the accommodation for you by consulting the campsite. This process takes two to four working days.

As soon as we have heard from the campsite, we will inform you via e-mail or phone if your booking can be arranged. If your request is approved, the booking is definite and the terms and conditions apply. If there is no accommodation available and your request is denied, your reservation will automatically be cancelled.
Location
Campsite Le Bontemps
5, Impasse du Bontemps
38150 - Vernioz
France
Distance from Dover: 886 km
Coordinates: 45°25'41"N 4°55'41"E
Situation of campsite
Situated on river/stream (max. 0.1 km)
Facilities
General information
Period of opening

15-04-2017 till 01-10-2017

Area

8 ha

Altitude

267m

Total number of pitches

231
The facilities are checked each year by an ACSI inspector in the period May to September. Unfortunately, changes made at the camp site after the inspector\'s visit cannot be ruled out.
Wifi/ Internet

WiFi zone
Wifi 80-100% coverage

Swimming

Toddlers' pool (ages 1-3, < 40 cm)

heated
surface area: 15 m2
period: 15-05/01-10

Indoor swimming pool by means of a sliding roof

heated
surface area: 145 m2

Beach

Sunbathing area
Grass beach

For children

Entertainment programme: Children (at least 2x a week - h.s.)

languages: French | Dutch
period: 01-07/31-08

Children's playground: large
Mini club (at least 4x a week - high season)

languages: French | Dutch

Bouncy castle

Recreation (adults)

Entertainment programme: Adults (at least 2x a week - h.s.)

languages: French
period: 01-07/31-08

Marked out walking routes near the camp site

Sport and games

Crazy golf
Multi-sports field
Tennis lessons
Table tennis table
Tennis court(s)
Jeu de boules alley(s)
Fitness
Cycle routes starting at the camp site
Games room
Television
Video games

Water sports and recreation

Dogs

Dog walking area
Dog(s) in low season (on lead)
Dog(s) in high season (on lead)

At the reception

Languages spoken at reception (during the main season)

languages: English | French | Dutch

Credit cards accepted

credit card: MasterCard | Visa Card

ACSI Club ID is accepted as an identity document
Reception easily accessible for the disabled

Rental facilities

Food and drink

Snack bar
Takeaway meals
Fresh bread available at the camp site
Restaurant (with ample choice)
Barbecues permitted

type of BBQ: charcoal | electricity | gas

Bar

Cash machine

Payment by debit card/Maestro possible

Toilet facilities

Washbasins: cold water
Washbasins: hot water
Individual washcabins: cold water
Individual washcabins: hot water
Showers: cold water
Showers: hot water
Standard toilets
Squatting-toilets
Chemical toilet disposal point
Baby room
Children's sanitary facilities

Washing, washing-up, cooking

Washing machine(s)
Dryers
Ironing facilities
Laundry sinks: cold water
Laundry sinks: hot water
Washing up sinks: cold water
Washing up sinks: hot water

Location

Situated on river/stream (max. 0.1 km)

Ground and vegetation

Grass
Marked pitches
Unshaded pitches
Pitches with some shade
Pitches with plenty of shade

Disabled

A shower (150 cmsx150 cms minimum) and a toilet (165x220cms or 190cmsx190cms minimum)
Door-springs light enough (3-4 kgs pressure)
Water and toilet facilities for disabled people in the same building as for the other campers
Water and toilet facilities for disabled people not in the same building, but fitted with alarm
Shower seat / shower chair (folding or mobile) approximately 48 cm high
Canteen/restaurant with level entrance or with ramp
Canteen/restaurant has toilet adapted for disabled people
Shop/supermarket with level entrance or with ramp
Swimming pool without hoist, but with a gently sloping bottom and plastic wheelchair

Miscellaneous

Patrolled grounds
Quiet during the day and at night
Footpaths and roads are lit
Separate area for young people
Reviews
Total score
7.7
Score from 1 reviews
L. Busch-Hansen
July 2017
Family with children, 4 – 12 years
Rigtig hyggelig campingplads
Personalet i restauranten taler kun fransk
God indtjekning med engelsktalende personale
7.7
Discounts
View all discounts for this campsite below. Don't see anything that takes your fancy but still looking for a great offer? Then take a look at
all of our campsite offers
.
| | Offer | Valid | Holiday period | |
| --- | --- | --- | --- | --- |
| Mobile Home CD | | 01-07-2017 - 01-12-2017 | 01-11-2016 - 01-11-2017 | Up to 0% discount |
| Mobile Home CD | | 11-04-2017 - 01-12-2017 | 01-11-2016 - 01-11-2017 | Up to 0% discount |
| Bungalow tent BT | | 01-07-2017 - 01-12-2017 | 01-11-2016 - 01-11-2017 | Up to 0% discount |
| Bungalow tent BT | | 11-04-2017 - 01-12-2017 | 01-11-2016 - 01-11-2017 | Up to 0% discount |
| Bungalow tent LT | | 01-07-2017 - 01-12-2017 | 01-11-2016 - 01-11-2017 | Up to 0% discount |
| Bungalow tent LT | | 11-04-2017 - 01-12-2017 | 01-11-2016 - 01-11-2017 | Up to 0% discount |
Weather
Weather forecast
Fri

15 / 12

Sat

16 / 12

Sun

17 / 12

Mon

18 / 12

Tue

19 / 12

Wed

20 / 12

Thu

21 / 12

Max.
9.6°
5.4°
4.3°
5.3°
6.1°
5.6°
5.7°
Min.
3.8°
2°
0.5°
-0.4°
1.6°
-0.2°
-0.4°
Precipitation
40%
90%
30%
90%
10%
10%
15%
Wind direction
W
N
N
N
N
N
N
Wind speed
4
3
3
3
3
2
2
Climate
| | Precipitation total (mm) | Hours of sunshine |
| --- | --- | --- |
| Jan | 43 | 2 |
| Feb | 41 | 3 |
| Mar | 51 | 5 |
| Apr | 61 | 6 |
| May | 76 | 7 |
| Jun | 79 | 8 |
| Jul | 66 | 9 |
| Aug | 79 | 9 |
| Sep | 76 | 5 |
| Oct | 86 | 3 |
| Nov | 69 | 2 |
| Dec | 51 | 1 |
Campsites in the vicinity