SunLodge Aspen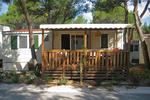 Suncamp has its own luxury mobile home: the SunLodge Aspen (maximum 6 people). The SunLodge is much more spacious than regular mobile homes and therefore offers extra comfort.

Layout: one bedroom with a double bed, one bedroom with two single beds and one bedroom with bunk beds. The beds are extra wide and long (0.80 x 2.10 m). This accommodation is also equipped with a bathroom and a separate toilet with a washbasin and hot water. There is of course a living room and a kitchen offering every convenience. There is also airconditioning. TV connection with satellite channels and flat-screen TVs are included in the price.

Outside there is a spacious terrace with protection from the sun and wooden furniture.

Take note: the actual contents, styling, inventory and dimensions of this accommodation and/or its patio may in practice differ slightly from the plan and/or the photos displayed.
Included in the price
Airconditioning is included
Bed linen is included
Pillows included
Persons 6
Duvets included
Remaining information
Coffee machine is available
Accommodation suitable for max. amount of pers.: 6
Microwave is available
Sat. tv connection is available
Dogs not allowed
Extra tent not allowed
Inventory list kitchen kitchen
Bowls (6)
Pair of salad servers (1)
Table mat (3)
Stewpan (3)
Potholders (2)
Pizza cutter (1)
Plastic box (3)
Plastic spatula (1)
Flat plates (6)
Grater (1)
Kitchen knife (1)
Cutting board (2)
Microwave (1)
Ladle (1)
Saucepans (1)
Teapot (1)
Tea glasses (6)
Vegetables drainer (1)
Carving knife (1)
Forks (6)
Water jug (1)
Water cooker (1)
Knives (6)
Measuring Cup (1)
Dish drainer (1)
Eggsholder (6)
Washing up bowl (1)
Ashtray (1)
Cutlery tray (1)
Can opener (1)
Bread knife (1)
Dessert plates (6)
Tray (1)
Soup plates (6)
Potatoe peeler (1)
Lemonade glasses (12)
Coffee spoons (6)
Whisk (1)
Big salad bowl (2)
Big spoon (1)
Cheese slicer (1)
Frying pans (2)
Refrigerator (1)
Electric coffee machine (1)
Cups and saucers (6)
Corkscrew (1)
Spoons (6)
Wine glasses (6)
Inventory list bedroom
Single bed (4)
Double bed (1)
Duvet 1 person (6)
Wardrobe hangers (20)
Pillows (6)
Molton (6)
Inventory list remaining
Broom (1)
Doormat (1)
Drying stand (1)
Floorcloth (1)
Bucket (1)
Rubber doormat (1)
Dust pan & dust pan brush (1)
Dustbin (1)
Toilet brush (1)
Clothes pegs (36)
Inventory list garden/terrace
Lounger (2)
Armchairs (6)
Table (1)
Inventory list living room