Popular amenities
Barbecue

Campsite shop

Walking/hiking/cycling

Golf/minigolf

Dogs allowed
all amenities
General information
Village Conca d'Oro, with great mobile homes, is located in a beautiful natural area only 1 km from Lago Maggiore. It has numerous amenities, such as a swimming pool, snack bar and playground, and you can make use of all the amenities at the partner campsite Conca d'Oro which is about 1 km away.
The direct surroundings are a source of inspiration with many mountains, lakes and luscious countryside in the valleys with beautiful rivulets and flowers, and welcoming villages with charming markets, souvenir shops, restaurants and pavement cafés. Verbania has a great weekly market and shops, and Stresa is also worth a visit. This campsite will make for an unforgettable camping holiday!

Read more
Free cancellation up to 31 December 2017
Changes can be made free of charge until 31 March 2018
Suncamp holidays is a registered participant of Stichting Garantiefonds Reisgelden (SGR). More info
Availability
Our accommodation
Mobile Home Top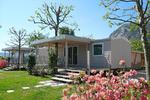 *This accommodation cannot be booked from our own supply. We will ask the campsite if the accommodation is still available

It is possible to book accommodation on request. This means the accommodation is no longer directly available for booking from our supply. Often, Suncamp holidays can still arrange the accommodation for you by consulting the campsite. This process takes two to four working days.

As soon as we have heard from the campsite, we will inform you via e-mail or phone if your booking can be arranged. If your request is approved, the booking is definite and the terms and conditions apply. If there is no accommodation available and your request is denied, your reservation will automatically be cancelled.
Location
Campsite Camping Village Conca d'Oro
Via 42 Martiri 26
28831 - Feriolo di Baveno
Italy
Distance from Dover: 1,078 km
Coordinates: 45°56'10"N 8°29'11"E
Situation of campsite
Close to motorway junction (< 10 km)
Facilities
General information
Period of opening

01-04-2017 till 01-10-2017

Area

7 ha

Altitude

200m

Total number of pitches

326
The facilities are checked each year by an ACSI inspector in the period May to September. Unfortunately, changes made at the camp site after the inspector\'s visit cannot be ruled out.
Wifi/ Internet

Swimming

Swimming in the lake/recreation pool(max. 0.1 km)
Located by a lake/recreation pond (max. 0.1 km)

Beach

Sunbathing area
Sandy beach

For children

Children's playground: small
Entertainment programme: Children (at least 2x a week - h.s.)

languages: German | Italian | Dutch
period: 01-07/31-08

Recreation (adults)

Excursion programme (at least 2x a week - m.s.)
Marked out walking routes near the camp site

Sport and games

Golf course nearby (max. 10 km)
Multi-sports field
Table tennis table
Riding
Cycle routes starting at the camp site
Games room
Television
Video games

Water sports and recreation

Windsurfing permitted
Sailing permitted
Waterskiing permitted
Canoes
Own boats permitted

motorboat (length: 6 m)
sailing boat (length: 6 m)

Fishing
Scuba diving

diving course
compressed-air cylinders filled

Snorkelling

Dogs

Dog(s) in low season (on lead)
Dog(s) in high season (on lead)

At the reception

Passport/identity card required
Languages spoken at reception (during the main season)

languages: German | French | Italian

Rental facilities

Cars
Bicycles
Canoes
Scooters

Food and drink

Snack bar
Takeaway meals
Groceries: extensive selection
Fresh bread available at the camp site
Pizzeria
Self-service restaurant
Restaurant (limited choice)
Restaurant (with ample choice)
Barbecues permitted

type of BBQ: charcoal | electricity | gas

Bar

Toilet facilities

Washbasins: cold water
Washbasins: hot water
Individual washcabins: cold water
Individual washcabins: hot water
Showers: cold water
Showers: hot water
Standard toilets
Squatting-toilets
Chemical toilet disposal point
Baby room
Children's sanitary facilities

Washing, washing-up, cooking

Washing machine(s)
Ironing facilities
Laundry sinks: cold water
Washing up sinks: cold water
Washing up sinks: hot water

Location

Close to motorway junction (< 10 km)

Ground and vegetation

Grass
Marked pitches
Pitches with some shade
Pitches with plenty of shade

Disabled

Shower seat / shower chair (folding or mobile) approximately 48 cm high
Canteen/restaurant with level entrance or with ramp
Shop/supermarket with level entrance or with ramp
Toilet-shower combination (215cmsx215cms minimum)

Miscellaneous

Patrolled grounds
Quiet during the day and at night
Footpaths and roads are lit
Reviews
Total score
8.0
Score from 1 reviews
D. Reinink
July 2017
Family with children, 12 - 18 years
Leuke knusse camping voor ouders met jonge kinderen! Niet voor tieners...
8.0
Discounts
View all discounts for this campsite below. Don't see anything that takes your fancy but still looking for a great offer? Then take a look at
all of our campsite offers
.
| | Offer | Valid | Holiday period | |
| --- | --- | --- | --- | --- |
| Mobile Home Top | | 01-07-2017 - 01-12-2017 | 01-11-2016 - 01-11-2017 | Up to 0% discount |
| Mobile Home Top | | 11-04-2017 - 01-12-2017 | 01-11-2016 - 01-11-2017 | Up to 0% discount |
Weather
Weather forecast
Fri

15 / 12

Sat

16 / 12

Sun

17 / 12

Mon

18 / 12

Tue

19 / 12

Wed

20 / 12

Thu

21 / 12

Max.
0.7°
-0.7°
-1.8°
0.2°
1.2°
4.5°
6.7°
Min.
-2.3°
-2.6°
-4.5°
-4.4°
-3°
-1.7°
1.5°
Precipitation
45%
5%
5%
45%
10%
10%
10%
Wind direction
NW
NW
NW
NW
NW
NW
NW
Wind speed
4
4
4
4
4
3
3
Climate
| | Relative humidity | Precipitation total (mm) | Hours of sunshine |
| --- | --- | --- | --- |
| Jan | 71% | 62 | 4 |
| Feb | 59% | 60 | 6 |
| Mar | 62% | 115 | 6 |
| Apr | 66% | 164 | 6 |
| May | 72% | 193 | 6 |
| Jun | 65% | 187 | 7 |
| Jul | 67% | 179 | 8 |
| Aug | 72% | 188 | 8 |
| Sep | 73% | 172 | 6 |
| Oct | 77% | 195 | 4 |
| Nov | 73% | 141 | 4 |
| Dec | 66% | 79 | 4 |
Campsites in the vicinity