Popular amenities
Barbecue

Cash machine

Restaurant on the campsite

Games/entertainment for children

Sport and games
all amenities
General information
Camping De Brem in Renesse is an excellent base for a camping holiday in Zeeland. It is a splendid family campsite, where quality and service are of the utmost importance. The outdoor swimming pool and toddler's pool are heated. The toddler's pool has a slide and water toys. There is also a giant water slide in high season.

The entertainment programme is diverse and mainly aimed at children. For example, archery, bouncing castles, giant slides, jugglers and a children's circus. There are also sports competitions, craft sessions, shows, games and performances, diving workshops, beach activities and a children's disco. A variety of ballgames can be played on the football pitch and children can play on the new playground.

You can enjoy the wide Zeeland beaches and the local outdoor area. You will have a great time in Renesse and in the small city of Zierikze, which has many historical monuments. Famous products of the region include mussels, Eastern Scheldt lobsters, Zeeland flat oysters and sea lavender. You can enjoy all of these products in the restaurant at the campsite, as well as homemade pizzas and other dishes. You can also get takeaway meals.

You can visit Neeltje Jans for a great day out in the local area. This is Zeeland's largest theme park and is located above the Delta Works, the coast and the sea. The Brouwersdam between Schouwen-Duiveland and Goeree-Overflakkee separates the North Sea and Lake Grevelingen. A variety of water sports take place on both sides of the dam.
Read more
Free cancellation up to 31 December 2017
Changes can be made free of charge until 31 March 2018
Suncamp holidays is a registered participant of Stichting Garantiefonds Reisgelden (SGR). More info
Availability
Our accommodation
Bungalow tent GT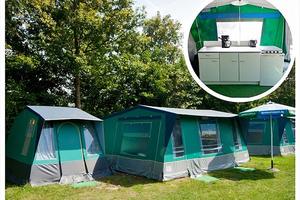 Bungalow tent BT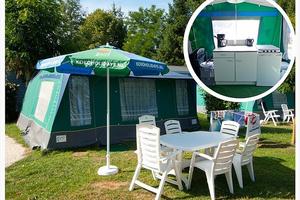 Bungalow tent LT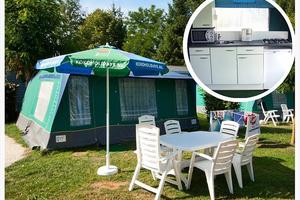 *This accommodation cannot be booked from our own supply. We will ask the campsite if the accommodation is still available

It is possible to book accommodation on request. This means the accommodation is no longer directly available for booking from our supply. Often, Suncamp holidays can still arrange the accommodation for you by consulting the campsite. This process takes two to four working days.

As soon as we have heard from the campsite, we will inform you via e-mail or phone if your booking can be arranged. If your request is approved, the booking is definite and the terms and conditions apply. If there is no accommodation available and your request is denied, your reservation will automatically be cancelled.
Location
Campsite De Brem
Hoogenboomlaan 11A
4325 DD - Renesse
Netherlands
Distance from Dover: 318 km
Coordinates: 51°43'34"N 3°45'3"E
Situation of campsite
Public transport near the camp site (max. 0.5 km)
Distance to the sea (max. 10 km)
Facilities
General information
Period of opening

01-01-2017 till 31-12-2017

Area

12 ha

Total number of pitches

451
The facilities are checked each year by an ACSI inspector in the period May to September. Unfortunately, changes made at the camp site after the inspector\'s visit cannot be ruled out.
Wifi/ Internet

WiFi zone
Wifi 80-100% coverage

wifi 80-100% coverage free

Swimming

Outdoor swimming pool

heated
surface area: 250 m2
period: 01-05/01-10

Toddlers' pool (ages 1-3, < 40 cm)

surface area: 80 m2
period: 01-05/01-10

For children

Children's playground: large
Mini club (at least 4x a week - high season)

languages: German | English | Dutch

Bouncy castle

Sport and games

Multi-sports field
Table tennis table
Jeu de boules alley(s)
Games room
Video games

Water sports and recreation

Own boats permitted

motorboat (length: 6 m)
sailing boat (length: 6 m)

Fishing

Dogs

Dogs not allowed in low season
Dogs not allowed in high season

At the reception

Languages spoken at reception (during the main season)

languages: German | English | Dutch

ACSI Club ID is accepted as an identity document

Food and drink

Takeaway meals
Restaurant (limited choice)
Barbecues permitted

type of BBQ: charcoal | electricity | gas

Cash machine

Payment by debit card/Maestro possible

Toilet facilities

Washbasins: cold water
Showers: hot water
Standard toilets
Chemical toilet disposal point
Baby room
Children's sanitary facilities

Washing, washing-up, cooking

Washing machine(s)
Dryers
Ironing facilities
Laundry sinks: cold water
Laundry sinks: hot water
Washing up sinks: cold water
Washing up sinks: hot water

Location

Public transport near the camp site (max. 0.5 km)
Distance to the sea (max. 10 km)

Ground and vegetation

Grass
Sand
Marked pitches
Pitches with some shade

Miscellaneous

Patrolled grounds
Quiet during the day and at night
Footpaths and roads are lit
Discounts
View all discounts for this campsite below. Don't see anything that takes your fancy but still looking for a great offer? Then take a look at
all of our campsite offers
.
| | Offer | Valid | Holiday period | |
| --- | --- | --- | --- | --- |
| Bungalow tent BT | | 01-07-2017 - 01-12-2017 | 01-11-2016 - 01-11-2017 | Up to 0% discount |
| Bungalow tent BT | | 11-04-2017 - 01-12-2017 | 01-11-2016 - 01-11-2017 | Up to 0% discount |
| Bungalow tent LT | | 01-07-2017 - 01-12-2017 | 01-11-2016 - 01-11-2017 | Up to 0% discount |
| Bungalow tent LT | | 11-04-2017 - 01-12-2017 | 01-11-2016 - 01-11-2017 | Up to 0% discount |
| Bungalow tent GT | | 01-07-2017 - 01-12-2017 | 01-11-2016 - 01-11-2017 | Up to 0% discount |
| Bungalow tent GT | | 11-04-2017 - 01-12-2017 | 01-11-2016 - 01-11-2017 | Up to 0% discount |
Weather
Weather forecast
Fri

15 / 12

Sat

16 / 12

Sun

17 / 12

Mon

18 / 12

Tue

19 / 12

Wed

20 / 12

Thu

21 / 12

Max.
5.6°
6.4°
7.7°
8.8°
8.4°
9.4°
9°
Min.
3.5°
3.6°
3.8°
5.6°
6.3°
6.8°
6.7°
Precipitation
90%
95%
55%
70%
35%
35%
35%
Wind direction
SW
NW
SW
W
SW
W
W
Wind speed
4
5
6
6
4
4
5
Climate
| | Relative humidity | Precipitation total (mm) |
| --- | --- | --- |
| Jan | 88% | 66 |
| Feb | 86% | 77 |
| Mar | 86% | 75 |
| Apr | 80% | 74 |
| May | 77% | 58 |
| Jun | 77% | 127 |
| Jul | 79% | 51 |
| Aug | 77% | 61 |
| Sep | 81% | 135 |
| Oct | 83% | 93 |
| Nov | 87% | 92 |
| Dec | 87% | 90 |
Campsites in the vicinity